Summer entertaining doesn't have to be complicated or time-consuming. If you happen to be the one who signed up to bring beverages- you don't have to grab 2-liter pops. Plan ahead and really be the 'Beverage Person'. These Agua Frescas aren't just 'Eye Candy' they are delicious and a refreshing cool down.
Using just 3-4 ingredients, and a blender, you're ready to take your next family gathering or potluck to another level!
Here are a few cool-down sippers for all ages!
Happy Blending!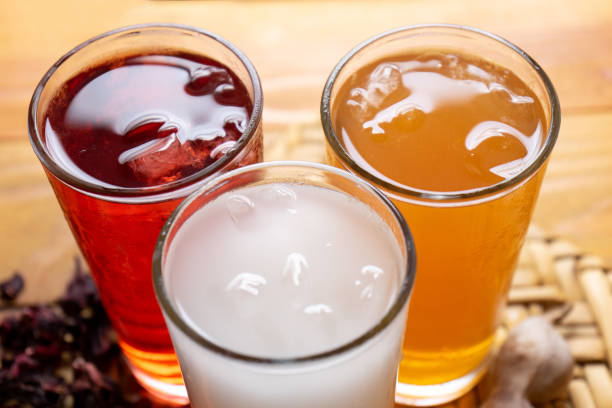 What is agua fresca and what is it made of?
Agua fresca simply means 'fresh water' in Spanish. It's a light and refreshing drink from Mexico that can be made in many flavors. It's made by blending fresh fruit and water together and straining the juice to remove any pulp. Sweetener and citrus squeeze are optional. Traditionally Aguas Frescas is not made with alcohol, it's just a cool and refreshing drink that's meant to quench your thirst.
Agua frescas are not a thick drink like a smoothie or juice. The fruit is added to the water to add flavor. The different types of fruits used to prepare the beverages will also vary from region to region, but some common ones are Papaya, Watermelon, Cantaloupe, Jamaica, Tamarind, Pineapple, Lime, and Mango.
What's the difference between agua fresca vs. lemonade?
The concept of agua fresca is very similar to lemonade. The key differences are that Agua Fresca uses blended fruit and doesn't require as much sugar.
What type of kitchen gadgets will I need?
Nothing sophisticated. A blender, mesh strainer and a spouted bowl or measuring cup are needed. A funnel also helps. You'll also need a container or pitcher to chill and store the Aguas Frescas in. That's it!
Sharp kitchen knife – for carving and cutting fruits: pineapples, watermelons, cantaloupe, and citrus.
High-powered blender – for blending the ingredients together
Mesh strainer – for extracting the juice from the pulp
Pitcher – for combining all of the ingredients
Spouted bowl
Measuring cups
Funnel
Large Pitcher or Container with a lid if transporting to a gathering
Ingredients
Everything you'll need to make Agua Frescas should be fresh at the very least frozen.
Fruits — Any: Watermelon, cantaloupe, honeydew, papaya: about 4 cups – they have a high yield content of liquid and more juice can be extracted. Mango, strawberry, peach, hibiscus, and cucumber are great variations.
It's also a wonderful and extra refreshing idea to slightly freeze your fruit.
NOTE: Each fruit has its own unique sweetness and water content, so you should adjust the water and sugar levels accordingly.
Water–filtered tap water is recommended. Use cold water if you want to serve immediately or serve over ice.
Sweetener of your choice: sugar, agave, honey, stevia– depending on how ripe or sweet your fruit is, you may be able to omit or use less than what the recipe calls for.
Fresh Herbs: experiment with mint, basil, cilantro, ginger, rosemary, or thyme— these are often infused in a simple syrup to add herbal notes.
CHEF'S NOTES: You'll get better results when working with chilled fruits. After cutting fruits it is a great idea to lay them in a zipped plastic bag and place them in the freezer for 30 minutes. However, it is not required.
Selecting Ripe Fruit
Honestly, the hardest part of making Aguas Frescas is choosing ripe fruit! The riper the fruit, the sweeter the juice, but you don't want to confuse ripe with rotten. If your fruit is too ripe it will throw your flavor and texture off.
Here are a few tips on picking ripe fruit:
Cantaloupe:
The best way to judge ripeness is by smelling it. It should have a sweet and fruity smell. If you can smell your cantaloupe while it's sitting on the counter, it's pretty safe to say it's time to juice it. Also, dents and smooth skin also signal that your cantaloupe has ripened. Dark, soft spots though might mean that your melon's time is up.
When you're shopping for cantaloupe, it's a good idea to pick it up and feel how heavy it is. Ripe cantaloupes feel heavy for their size. If your cantaloupe has a green tint to it, that signals that it's unripe.
Watermelon:
This one is a little trickier, but feeling how much it weighs is a good indicator of ripeness too. Your watermelon should look and feel heavy for its size. The underside of the melon (the part that rests on the ground) should be yellow. I try to juice watermelon as soon as I purchase it. This particular aguas frescas will turn jelly-like if you make it with watermelon that was cut days prior. Speaking from experience.
Pineapple:
Determining the ripeness of this one is easy! If you notice some give when you tug at the crown of the pineapple, that's a good indicator of ripeness. Also, the color of the pineapple will tell you whether it's ripe or not! Pineapples should be golden-yellow on the outside. If it's still green, that means it's not ripe.
How do I serve água frescas?
This is the fun part! Aguas Frescas are best served ice-cold! I chill them in the refrigerator for an hour or so and then pour them into glasses over ice, right before serving.
These drinks are so pretty! Beautiful eye candy! It's fun to play around with different-sized glasses, colorful straws, fresh fruit, and herbs as a garnish! Lime and fresh mint are my go-to's for fruity drinks!
You REALLY don't need a recipe to make these refreshing Mexican coolers. Enjoy experimenting!